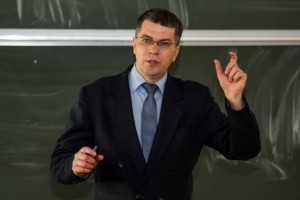 You are invited to the lectures (in English) of Piotr Rogala, an assistant professor at the Wroclaw University of Economics in Poland. Lectures will take place:
"Total Quality Management: Evolution, Essence and Prospect – the subjective point of view" – on the 17th of November at 3 p.m. in VU EF classroom JR12;
"The new ISO 9001:2015 standard – Opportunities and Threats" – on the 18th of November at 5.30 p.m. in VU EF classroom 713.
Piotr Rogala – PhD, since 1995 employed at the Department of Quality & Environmental Management of University of Economics in Wrocław, Poland. Primary research interests: quality management, quality of life and social responsibility. Author of 50+ papers on quality management; regular co-operator of the Polish Problemy Jakości [Quality Issues] journal; freelance trainer  and consultant.