Irina Semeniuk, graduate of 2021
Dear professor Juozas RUZEVICIUS, Thank you for enjoyable, informative and innovative ideas during lectures! You convey deep and high level quality management knowledge to students in an excellent and interesting way!
George Bampalis (Greece), graduate of 2018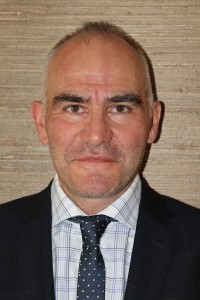 "The experience of my studies at Vilnius University for the Master's Degree in Quality Management was far beyond my expectations, and I can only say positive things.
Having studied previously in England for my first Degree and for my first Master's, I was amazed here by the high level of courses, teaching methods, classes and organization.
Based on my previous experience, I can say that the Master's Degree programme here is of at least equal (if not rather higher) standard than many British universities.
The Master's curriculum is demanding and rewarding with its diverse but interlinked topics, and succeeds in its objectives of providing us students with useful expertise and deep knowledge.
Vilnius University Faculty of Economics and Business has outstanding professors, highly trained and committed as teachers, and I was delighted by their willingness to help and support us students. Of course, the same eagerness to kindly assist us, equally applies to the international studies coordinator! I am very much obliged to both! I am also very much obliged and thankful to my academic supervisor Prof. dr. Dalius Serafinas for his recommendations and comments and the ways forward he showed me in writing and advancing my Thesis.
Overall I can say that for me, Vilnius University was the perfect study environment. In addition the city of Vilnius is beautiful, culturally rich, and cozy, and this makes another compelling reason to study here.
Thus, I would totally recommend my friends and acquaintances (and all others) to study at the Faculty since it was such a nice, useful and rewarding experience for me, of which I only have good memories and positive impressions".
July 27 , 2018
Ausra SIMONAVICIENE, GlaxoSmithKline Consumer Healthcare quality manager, the graduate of 2016:
"Personally for me is a great honor to be the graduate of Vilnius university Quality management programme".
June 09, 2016
Ieva KAZLAUSKIENE, the graduate of 2016:
"If you want interesting, different, dynamic, relevant and reasonable studies – write QUALITY MANAGEMENT first in your application".
May 27, 2016
Aiste KUCKAITE, the graduate of 2016:
"Quality management master studies surpassed my expectations with a vengeance!"
May 26, 2016
Jelena ANGELIS (ŠIRALIOVA), PhD – VU Quality Management master programme graduate, PhD of the Cambridge university, Oxford Innovation consultant TESTIMONIAL, 2010.11.18

Jonas GAUBIS – graduate of QUALITY MANAGEMENT Masters programme at Vilnius university, Vilnius University Academical affairs manager TESTIMONIAL 2010.12.30