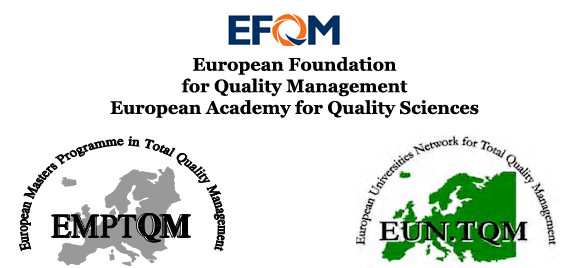 VILNIUS UNIVERSITY (Lithuania)
Faculty of Economics
QUALITY MANAGEMENT
Master programme
State code – 62403S108; code by ISCED – 51234
This programme is accreditated and harmonized with European Master Programme for Total Quality Management (EMP.TQM)
Programme's International audit and accreditation
Scientists – experts from Great Britain, Germany, Sweden, Austria and Hungary in 2005-2007 participated in the procedure of international audit and accreditation of Vilnius University Master's programme in QUALITY MANAGEMENT.
Quality Management programme of Vilnius University was evaluated by foreign experts as very good and has got international accreditation.
Foreign experts indicated such advantages of Quality Management Master programme:
1. The programme is characterised by good connections to business and by being in accordance with the national policy on quality policy.
2. The programme contains many of the features of similar West European quality management programmes.
3. About 40 % of the programme is taught by professors, which is way over minimum requirements.
4. Four of the teachers have qualified in accordance to EU requirements and a considerable number of teachers have work experience from abroad.
5. The teaching staff appears to possess an attractive mix of academic and practical skills.
6. Programme is not multiplied widely – in Lithuania only two programmes exist of this kind.
7. The programme appears to be very popular, and only one in 17 applicants enter it.
8. Masters' theses on this programme reflect analytical skills as well as business understanding.
9. A number of students are trapped in practical work, while several of them move abroad to study in West countries.
10.The programme managers have succeeded in creating a caring and positive atmosphere for the students, and students express satisfaction.